We specialize in green and sustainable printing. Here is how we do it: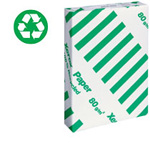 Recycled Paper
Anyone can use recycled paper but most do not. Even those that do may not know that, unfortunately, a lot of recycled papers are only consisted of 30% recycled fiber and of that 30%, NONE of it may be PCW (post-consumer waste) which means that no landfills are being helped by this paper. We use, as standard paper, stocks that are at least 50% recycled and of that 50%, 25% is PCW. We prefer to use 100% PCW papers whenever possible.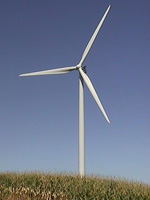 Wind-Powered Paper
We also prefer to use paper that is made using wind-power generated energy. It is always available and we use it whenever our customer gives us the "green light" to use this special paper.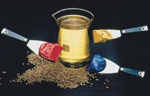 Soy Inks
They are a lot like recycled papers in that only 20% of the petroleum oil that is in inks needs to be replaced in order to be declared "soy". We are in the process of switching over all our inks to those that have up to 12% vegetable based oils and a total of up to 56% bio-derived raw material content.
Digital Equipment
We use the latest in digital technology. This greatly reduces the amount of waste which eases the burden on our environment.
Digital Full Color Heidelberg
This press not only uses a fraction of the paper wasted in set up, but it is also "waterless". Traditional color presses use water in their systems to regulate ink flow. This water has a significant amount of chemicals in it to make the water work better and more efficiently. These chemicals end up on your product! The waste chemicals end up being poured down the drain. Since our press is waterless, we are avoiding the use and disposal of all these unneccessary chemicals!

Recycling
ALL of our waste paper, including from our offices, are returned to the paper mills for recycling. We have special containers located throughout the plant for this purpose.
Waste Ink
Most printers throw away significant amounts of ink that has gone bad or is not reusable. Not Pro Printers. We store waste ink in a barrel and pay a USA certified "cleaner" of waste inks to pick it up. They treat these inks so that they are harmless before they use it for fuel or discard it.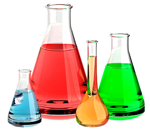 Waste Chemicals
Traditional printing plates still use processing chemicals that "tire" periodically and must be discarded. We buy a special solution made for the purpose of neutralizing these chemicals and turning them into harmless salt. Many printers simply discard these chemicals. We view this extra cost as a "must" to preserve our environment.
Cleaning Chemicals
Presses must be cleaned regularly. Strong chemicals make the cleaning process go faster and more efficiently, but they are not environmentally sound. We use a chemical that can be diluted with water so that it is safer for the workers and easier on the environment. Volatile organic compounds are avoided at all cost.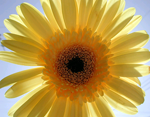 What Is Next?
We are looking into buying alternative energy for printing so that our customers will have the confidence that their product is not only on recycled paper with real soy inks, but also the energy used was environmentally safe as well!