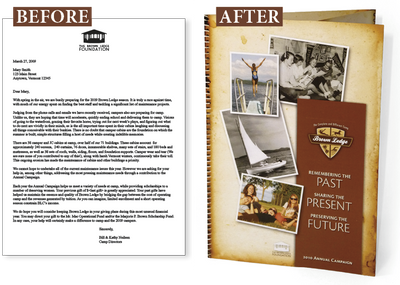 Case Study - Brown Ledge Foundation
Using Personalization to Improve Donation Appeal
Camp Brown Ledge is a girl's summer camp located on Lake Champlain in Colchester, Vermont. The camp has been has been the summer home for girls ages 10-18 since 1927.
In 1997, the Brown Ledge Foundation was formed as a nonprofit organization with its mission to oversee the operation, perpetuation, and educational mission of Brown Ledge Camp. Prior to 2010, Foundation appeals consisted of a personalized typewritten letter mailed in a conventional envelope with an enclosed reply envelope for a donation check.
Management had been experiencing a decline in donations when they approached their local printer to explore an alternative means to reinvigorate the campaign and reverse the trend.
Their recommendation was to engage the alumnae with memories of their fun-filled days at Camp Brown Ledge by incorporating the camp's archive of photos, going back to their 1927 beginning, to reconnect donors with the camp and the same value proposition that still exists today. The decision was also made to highlight a particular tangible need, in this case replacing the aging ski boat, as a donor option to the usual scholarship fund and general operating expenses.
The result is illustrated here with before and after thumbnails comparing the traditional letter to the new camp-theme designed self-mailer that was implemented.
The cover photos spanned the years to help capture the attention of alumnae of all ages.
The ski boat focus added an element of fond memories and an appreciation for a dependable and safe-operating boat to donate towards.
The inside of each mailer was personalized with each alumna's name to help call attention.
The end panel/reply card portion of the mailer incorporated VDP (variable data printing) to  populate each piece with four photos from the decade that recipient was a camper there.
Using the client's data and digital print technology, each piece was highly personalized which helped meet the objective of reinvigorating alumnae, which increased the response rate, and raised more money – nearly double what was raised the previous year. The intangible benefit resulted in a "buzz" that elevated the level of spirit and engagement through reminiscent notes and letters that accompanied the increased donations.
If you too would like to increase revenue through personalization of your appeal, please use the form on the Help for Not-for-Profit page and we'll reach out soon!