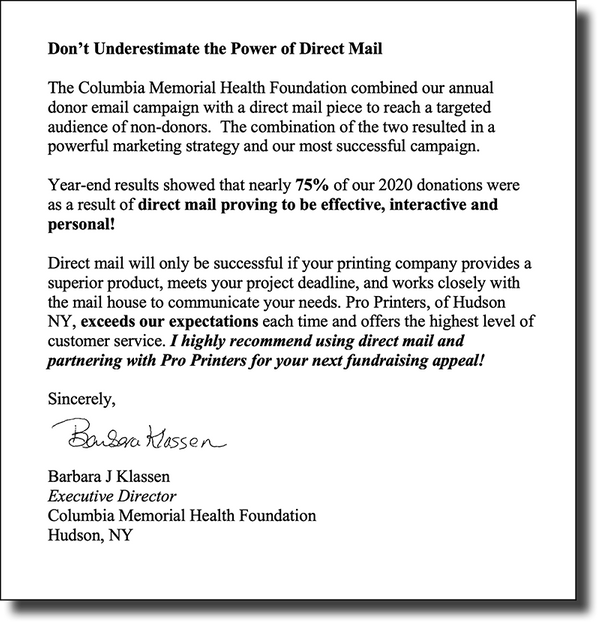 Real Testimonial of Direct Mail User, January 2021
Help for Not-for-Profit Organizations
These are tumultuous times for us all. With concerns about gathering large groups of people together, non-for-profit organizations are contemplating very difficult choices. People just like you are asking "how will we continue to raise money if we need to, or worse, are forced to, cancel our fundraising event?" Will your organization be able to survive the financial "hit" of missed revenue?
As a donor myself, please allow me to plead the following; do not stop appealing to your donors and members! Your audience, base and community still care about your admirable cause and want to make sure your organization is around for years to come.
So, what should you do to mitigate losses from missed fundraising events, or even better, thrive financially in these times? The answer is direct mail.
Direct mail, done well, maintains its place as the top fundraising medium for response rate and return on investment. But what does "done well" mean exactly? The answer involves developing and executing a process that employs a combination of tried-and-true fundamentals along with some experimentation.  
The fundamentals are just that – best practices that form a minimum requirement to launching a successful fundraising campaign. These include:
A vetted mailing list that's segmented to reflect the characteristics of your donor base.
A call-to-action (CTA) that tells the recipient what to do and lay it out in very specific words.
Add the word "you" as much as you possibly can while maintaining a conversational flow to draw the reader in.
Mail to your audience 5-7 times a year. The reason your donors are not renewing their gifts is NOT that they don't like you anymore; but rather you may not be reminding them enough.
We have more tips in our toolbox, but these are a good start. To read more see the Brown Ledge Case Study for a successful appeal.
Please remember, regardless of your decision about hosting your event, getting in front of prospective donors is ALWAYS a good idea and furthermore, is a positive, proactive step in our current giving "landscape." If you have further questions on how direct mail can help, please contact us.
Mention the code HELP-NFP for a 15% discount on your first order!