OPEN for business?
Delivering?
Let your customers know!
Now is a critical time to let customers know your restaurant is still open for business! We can help with inexpensive banners, sidewalk signs, and every door direct mail postcards, sending your message directly into the homes of your clients!
---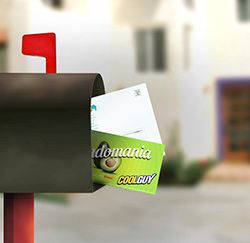 Every Door Direct Mail Postcards
For just the cost of a first class stamp* we'll send your unique, oversized postcard into local homes to keep those orders coming in! Here's what you'll get:
Special Pricing - Only $0.55 ea.*
Oversized 6.25"x9" Card Printed in Full Color
Convenient Online Ordering - Order and Proof from your Home or Office
Custom Selected Postal Routes Unique to Your Business
Increased Demand for Delivery/Takeout
Need help with the design? No problem!
For a limited time, we'll create a beautiful, personalized design for only $75.**
*min. 1000 cards, plus discounted design charge if applicable
**requires text/logo supplied
---
Sidewalk Sign ($89)

Insert available in 4 color styles

Indoor/Outdoor Banner

Small 30"x24" $29
Large 50"x40" $59
Available in 4 color styles
Banners & Signs
Need an "Open for Takeout" Banner?
Stay "front-of-mind" with small 30"x24" ($29) or large 50"x40" ($59) vinyl banners reminding your customers you offer takeout. We also have a changeable 24"x18" sidewalk sign ($89) to increase your visibility. These are discounted prices only offered during this crisis. Act now to get yours before the offer ends and the "stay home" order is lifted. (All pricing is subject to tax as required)
Don't wait to promote your delivery & takeout services to customers staying home. Be proactive! Contact us below or at ryan@pro-printers.com and 518.828.3278 to get your message out ASAP!