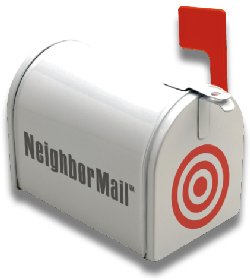 Neighbormail – Precision Target Marketing
It's never been easier to zero in on your target markets!
Our NeighborMail™ program delivers your selling message on a jumbo postcard to all the homes in your selection of neighborhoods. We have numerous neighborhoods for you to choose from; neighborhoods where your most qualified customers live. We then design, print and mail your message into their homes; making reaching your target market easy…
With our NeighborMail™ program, you can:
Build traffic
Reach new customers
Increase sales
Reduce mailing costs
Eliminate marketing hassles
Now every small business can reach customers and prospects with a precision never before possible. We provide the complete mail marketing package to you: we design, print and mail for less than the cost of a first class stamp.
We Do The Leg Work!
Our program offers benefits other advertising can't.
It's targeted. You select specific mail routes and NeighborMail™ puts your message into every mailbox – this saturation means no exclusions due to a bad mail list – your message goes to everyone.
It's full color! We use full color, large size cards for better response. That means a large, eye-catching mail piece which is much larger than the standard 4"x6" postcard.
More selling opportunities. Because of the size, you can include more offers or coupons to help increase your response rate.
More message for your money. Our NeighborMail™ card allows us to print your offers on both sides of the mailed piece.
No USPS Postage Permit hassle required. You traditionally needed a permit costing as much as $450 to send postcards through the mail. Using our NeighborMail™ program, you not only eliminate that charge but we do it all for you.
No mail list needed. We take care of the details so the postal service will deliver your piece to each door in the mailing routes you pick.
You Reap the Reward!
High Response. NeighborMail™ has a high return on investment (ROI). The USPS statistics show that for every $1 invested in direct mail $12.50 is returned in sales.
Delivered Intact. NeighborMail™ mail never goes through processing equipment. It goes directly to the mail carrier - meaning your piece arrives in perfect condition.
Cool Web Integration. We can integrate your message with QR Codes and Mobile Websites to take advantage of the new Internet technology as well.
Our NeighborMail™ program is the most economical and targeted way to keep your business and message on the top of the minds of everyone in your targeted neighborhoods. Get started today by calling us (518) 828-3278 or for a free idea consultation session as well as an estimate of costs feel free to complete the form below.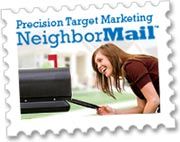 Mailing in Hudson, NY with NeighborMail from Pro Printers